Being honest, I only wanted a family-dog, but Archies breeder Mrs. Hildegard Baier  realized his quality and talked me into joining the yearly Retriever Club Show. Archie, meanwhile 6 months old didn't act like a show-dog should, but the judge Mr. Edwards ( Lovehayne Goldes) was very impressed of him and added a sentence to his report which changed a lot for me: "….a very promising future".
And as you know, when having success -  you want to reach the top.
We both had a lot of training to do, but - both hard-headed - we made it and Archie has won a lot of 1st prizes and  3 times
" BEST OF BREED".
Several times he had the chance to pass on his lovely character, beautiful body and head  to his puppies. Each time I look at their photos or watch them at the dog shows, I am really proud of my boy. 
At the mean time, I have two Goldens. Since may 2000 Archie got a girlfriend, called Sunny. She comes from Wales - from Jane Clark "TREWATER-GOLDENS" - They both fell in love with each other right a way. This little puppy grew up fast. She has phantastic health-certificates, gained her "JUNIOR CHAMPION" with 14months, and will be mated at the end of 2001. Certainly Archie is going to be the father of the puppies, but untill then a lot of  work must be done. Sunny is my second dog, and we both are training hard. Maybe ionce we'll be ready to attend a WORKING-TEST - an aim we've set to us.
This summer (2002), my second bitch came to our house, called Polly. She also comes from the UK - Trewater Golden Retrievers, from a very promising combination. More details can be read about her, on her own page at .......

Golden Retriever
In October 2003 I drove by car to the U.K. to visit my friend Jane Clark (Trewater) and take my 4th dog home with us. He is called BRANSON and I met him for the first time during my stay at Janes house in March 2003 when visiting Crufts. Branson is in Janes ownership and in his pedigree you can find a lot of interesting lines, just perfect for my gils. We both fell in love immediately and so Branson now is living at my house and enjoys playing with the girls and Archibald. He is a perfect combination of his mom and father (Gatchells Jazz Player) with lots of will-to-please and working ability. Together we enjoy gundog-training very much.
Now you know the whole story and probably can imagine, that DOGMANIA is catching!
See you at one of the next shows!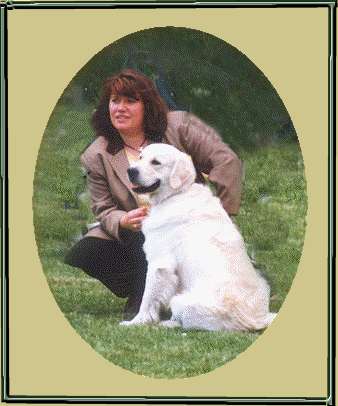 Bye-Bye

Michaela E.-A.

updated january 2004