j
How to find us
Michaela Engstler-Anderson
Walgaustrasse 26
A-6714 Nüziders (Vorarlberg)
Tel.+Fax.: +43 (0)5552 68925
mobile: +43 676 7252536
**************
The Ganwales Kennel is locaded near the swiss and german border.
We are in easy reach to Zurich International Airport (1,5 hours) and Munich International Airport (2 hours).
In Austria you have to take the motorway A14 (Rheintalautobahn) and leave it at Exit 57 (Bludenz West/Nüziders).
GANWALES GOLDEN RETRIEVER
Walgaustrasse 26
A - 6714 Nüziders
below a map how to find our house coming from the motorway.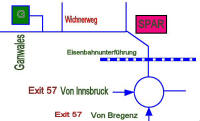 (you can click it and print it for your convenience)