| | |
| --- | --- |
| Stormerick Don Giovanni | "Cagney" (DOB 25.4.2006) |
several matings sofar with lovely puppies as result who show great construction, good health and that typical golden character !
enquiries can be made to: michaela@ganwales.at
( february 2009 aged 3 years)
Purbarn Gales N'Golden Rain JW SChM ex Stormerick Sante Katerina
Hips- B, Elbows-0/0, OCD-free
BVA/KC hip-score 3:5
BVA/KC elbow- score 0/0
clear RD litter screening april 2006
clear eye certificate ( PRA, HC, RD) june 2007
complete scissors bite
character gundog-test 23.6.2007
obedience: Retriever-Basic-Test 1
Retriever-Basic-Test 2 (june2008)
2,5 years

Cagney, my little rich golden rascal opened my heart in no time. Always hoping around, retrieving nearly everything he can find and so helps me doing the household everyday on: he makes the mess, I clean it up !
Cagney comes from beautiful Somerset, where the earth is dark red, the trees green as green can be and the rhododendron grow wild on the hills. I enjoyed this beautiful landscape and certainly will come back.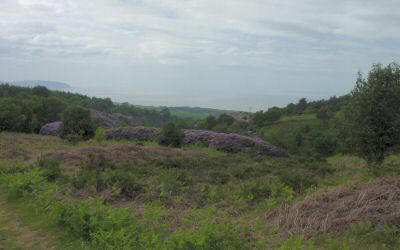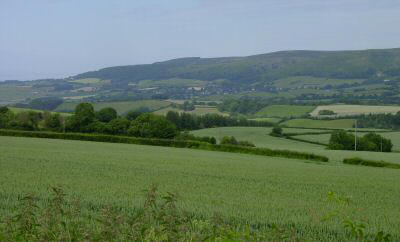 Rain, his father is a well known Showdog aswell as a well known Gundog, always in the mood for doing something crazy and very reliable in picking up. This keeps everybody on the go and therefore they love him. Emma, his mother is a lovely rich golden lady "of the old golden retriever type", which I favourize so much, always showing her gentil lovable temperament.
I hope Cagney ends up as a "well made put together cocktail" of his parents. Time will tell.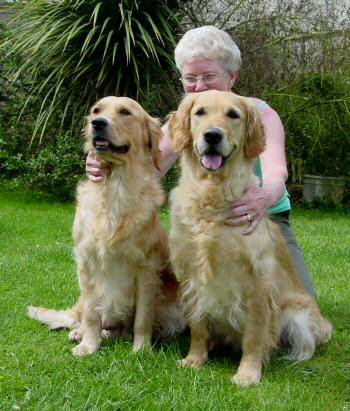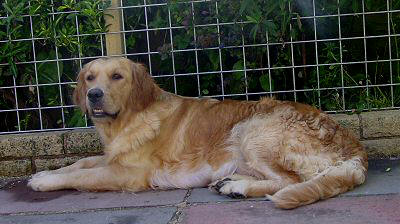 Emma & her Mom Rose Emma
Purbarn Gales N'Golden Rain JW SHCM
SGWC, 2CC's

CH Purbarn Xtra Thunderstorm
SGWC
Lorinford Thunderstorm of Purbarn
SGWC
Styal Souvenir of Nortonwood
Lorinford Playgirl
Cinmarsh Creates Havoc at Purbarn
Bolberry Chaconne at Moorquest
Muskan Miss Demeanor of Cinmarsh
Purbarn Come Together
Gillbryan Water Bailiff JW
CH Ritzilyn Cockney Robin JW
Wyvan Unforgetable for Gillbryan
Purbarn Another Confusion
CH Purbarn Xtra Thunderstorm
Pearlbarn Confused with Purbarn
Stormerick Sante Katerina

SHCH Stormerick Solomon JW SHCHM
Gatchells Jazz Playwer JW
Mindaro Nawlins Jazz
Silversky Sundancer by Gatchells
Stormerick Fortune Cookie
SHCH Perrimay Hugo of Fenwood
Stormerick Eleonor
Stormerick Kiss From A Rose
CH Stanroph Sailor Boy
SGWC
CH Meant to be at Moorquest
Stanroph Shere Fantasy
Stormerick Kiss me Kate
SHCH Stanroph Soldier Boy
Purbarn Summertime Special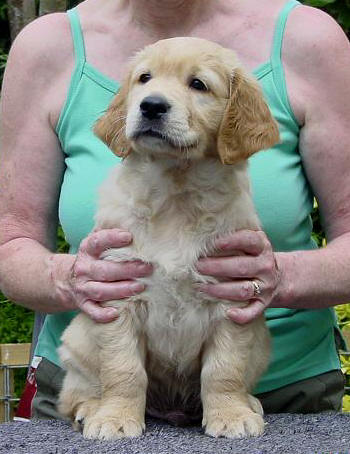 7 weeks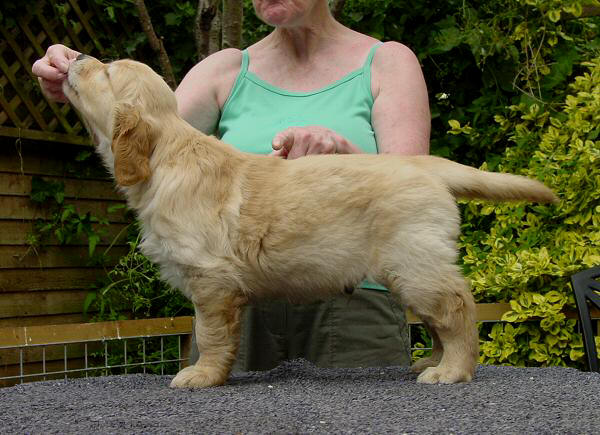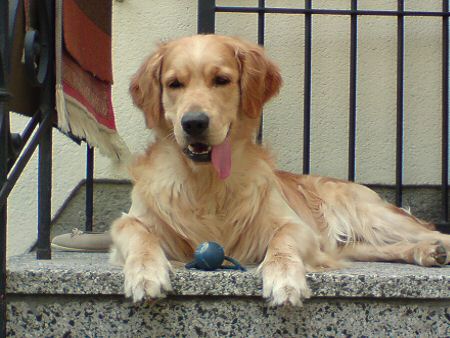 juni 2008
update 23.9.2008- Cagney now aged 2,5 years
Fotogallery: Cagney in Action .... click here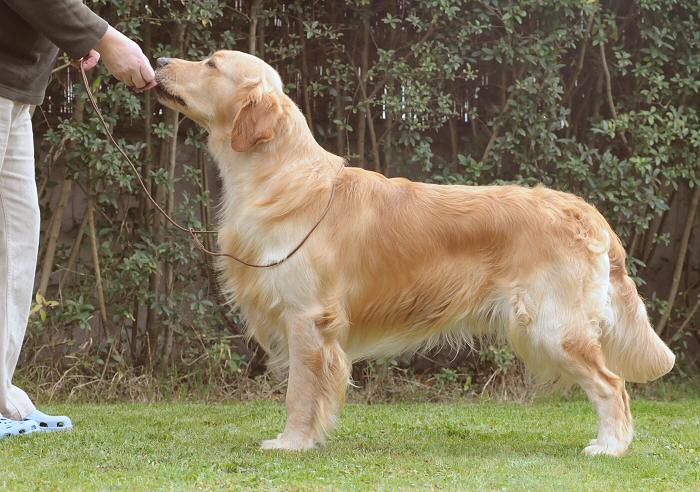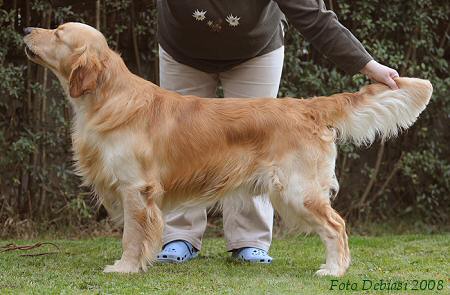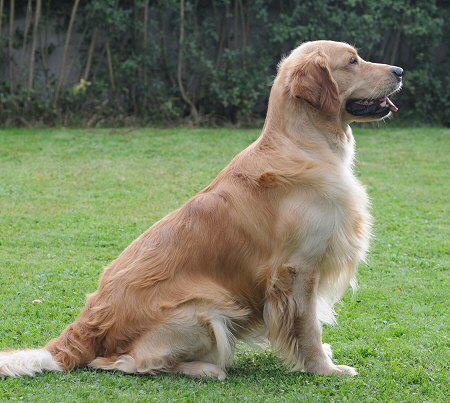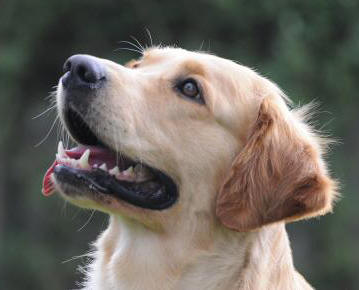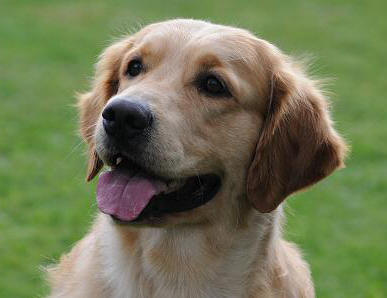 12/2010
IHA Wels
Richter: Frank Kane
Bewertung: Excellent 2 (res. CACA) - Offene Klasse

11.1.

2009
IHA-Innsbruck
Richter: Yvonne Jaussi
Bewertung:

Excellent

4 (Offene Klasse)


"big 2,5 year old boy, masculin head, correct placed but a little big ears, excellent length of neck, correct shoulder placement, excellent forechest and depth, slightly long in loin, excellent tailset, tail-carriage while movement a little proud, excellent rear angulations, excellent bones, sound movement with drive, excellent presented." - this report has been translated

10.

1.

2009
NHA-Innsbruck


Judge

: Sigrid Jarmer
Bewertung:

Excellent

4 (Offene Klasse)

September 2008
IHA Avenches (CH)


Judge:

Monica Everett-Monks (Lorinford)


Result

:

Very Good

(Offene Klasse)

August 2008
IHA Innsbruck .......Cagney

stayed at home

: Sina

was mated

!
21.6.2008
IHA Luzern - (O

pen

Class

) .........

cancelled

18.5.2008
IHA St. Gallen - (Offene Klasse)
Richter: Valerie Banbery (Fairfield)
Bewertug: Sehr Gut
......Cagney muss noch in die Offene Klasse "hineinwachsen"
17.5.2008
IHA St. Gallen - (Offene Klasse)
Richter: Ann Woodcock (Stanroph)
Bewertung: Sehr gut
..........Cagney muss noch in die Offene Klasse "hineinwachsen"

20.4.2008
Clubshow RCS Frauenfeld - (Zwischenklasse)
Richter: Jenny Mace (Purbarn)
Bewertung: Excellent 3
"This dark gold boy has imporved considerably sine I saw him in Germany. He would do well to carry a little more weight over the ribs. His angulation and overall body proportions are good, but he was a little proud of his tail today".
12.4.2008
IHA Wieselburg - (Intermediate)
judge: Mag. Siegrid Hauptmann
Very Good 3

december 2008
International Show Wels (A)- Intermediate
Judge: A.Koroz
Excellent 3
23.9.2007
La Nationale Lemanique in Avanches (CH) - (Intermediate)
Judge: Sue Towers (Alibren), GB
Excellent 3


june 2007
GRC Clubshow Beckum - Juunior (30 entries !!!!)
Judge: Jenny Frankland-Mace (Purbarn), GB
Excellent 3
"Excellent. Nice expression, used his ears to advantage, good rach of neck, lovely front angulation, deep chest, level topline, well muscled quarters, a little proud of his tail on occasions, but moved on nice tight feet."
click to enlarge
may 2007
International Show in St. Gallen (Switzerland)
Juniorclass - Excelent 3
judge: Mrs. Freda Marshall (Gainspa)
january 2007

Clubshow Herrenberg (Germany)
Jugendklasse(9-15months) - Very Good
unfortunately change of judge, so once more: Mr.S.Watkins (Tamarley)
"lovely pigmentation, straight front, good top line, moved a little rattick, bit liked more to feathering in the picture to complete"



(well, guess this needs a short explanation : Cagney was on the day of this show 9 months plus one day, and stood in the ring with mainly 12-15month old youngsters !!!!!)

3.12.2006
Clubshow in Wettingen (Switzerland)
Jüngstenklasse (6-9months) - VERY PROMISING
judge: S.Watkins (Tamarley)

---