Austrian Bundessieger




Moorfield Morning Archibald

" Archie"

(

DOB 22.10.1996)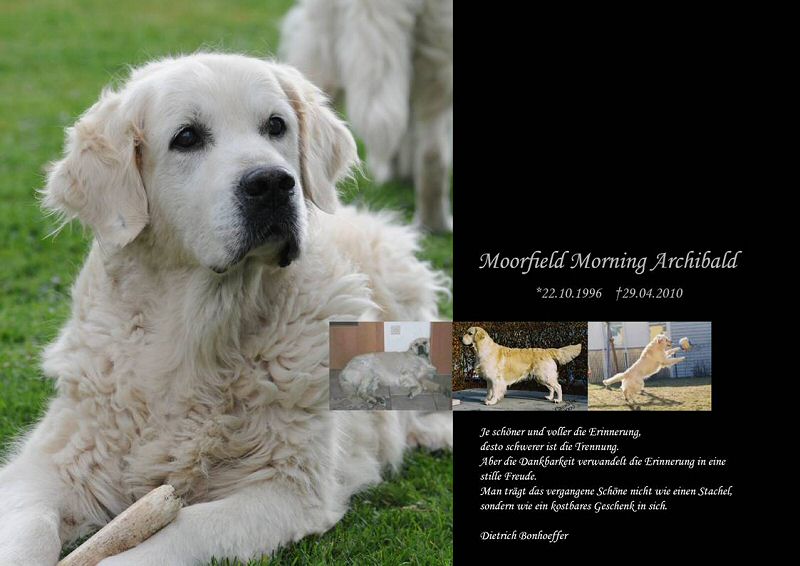 ...Archibald is enjoying his retirement !
(CH Ritzilyn Man About Town & Trewater Trouvaille)
Hips/Elbows/Shoulders -

FREE
current eye-certificate - FREE (
sept 200
5
)
working-tests: Begleithunde 1 + 2
(obedience)
2nd of "TOP GOLDEN RETRIEVER DOG OF 2002"

2nd of "TOP GOLDEN RETRIEVER DOG OF 2001"

SHOW:
6
x CACA,
4
x CACIB
3x BOB
"Best Junior Golden Retriever"
"Austrian Bundessieger 1998"
...several placings in Austria and abroad.
"The Friend"
ARCHIE , that's how we usually call him, as long as he knows how to behave,
is a phantastic boy, full of temperament with an amazing character.
Always a smile on his face and constantly wagging his tail,
Yes-we couldn't imagine our house without him anymore
"The Clown"
He is a great character, always up to something
- neither shoes nor clothing –
everything is being carried around. I wasn't able jet to train him to do the household,
but I am working on this.
"The Casanova"
He enjoys getting "girls-visits" and cracks almost every heart.
Archie is passing on to his puppies his superb head and kindly expression, the health, good bone and lively character.
"The Father"
I would be proud if you choose Archie to sire your bitch and so giving him the possibility to pass on his good looking and outgoing temperament to their puppies.

mailto: michaela@ganwales.at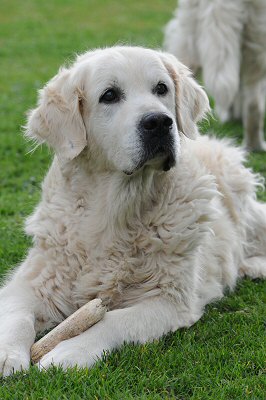 12 years

Vater:
CH

RITZILYN MAN ABOUT TOWN


KC T 5565702T04
HD B
PRA/HC FREI

CH PAUDELL EASTER PLANTAGENET AT KERRIEN
KC 3589BZ
HD4/3 (BG)

SANSUE CASTILIAN
KC 4247BW
HD 5/5 (GB)


CH STYAL SHELLEY OF MAUNDALE
KC 4074BR HD 1/13(GB)

ROSSBOURNE PARTY PIECE OF SANSUE


KC 3405BQ

HD 1/2(GB)

KERRIEN CALYPSO OF PAUDELL
KC 2262BY
HD (1/4 (GB)

CH OYSTERGOLD PANDORINA OF VINECROFT
KC 5345BR HD 8/9(GB)

CH OKUS JALLINA OF KERRIEN
KC 4187BU HD 5/6(GB)

CH RITZILYN VIVACITY
KC 0171BY
HD 4/5 (GB)

RITZILYN JEFFERSON
KC K6715705K13
HD 10/4 (GB)

CH NIGHT ROMANCE OF KENOUR AT CHILZER
KC 2455BV HD 8/3(GB)

SANDUSKY BERNADETTE AT RITZILYN
KC 2927BV HD 4/4(GB)

CH RITZILYN RED KNICKS
KC 4668BX
HD 13/14 (GB)

CH GAINEDA CONSOLIDATOR OF SANSUE
KC 0459BP HD 0/2(GB)

RITZILYN HEIDI HI
KC 1838BY HD 16/3(GB)

Mutter:
TREWATER TROUVAILLE
GRET 1192
HD 6/4 (GB)
PRA/HC FREI

CH PAPETA PHILOSOPHER
KC 0935BY
HD 2/3 (GB)

CH SANSUE GOLDEN RULER
KC 2131BU
HD 3/6 (GB)

CH GAINEDA CONSOLIDATOR OF SANSUE
KC 0459BP HD 0/2(GB)

CH SANSUE WRAINBOW
KC 1444BN HD 1 /4 (GB)

CH WESTLEY SOPHIA OF PAPETA
KC 0096BT

CH NORTONWOOD FAUNUS
KC 2202BK

CH WESTLEY VICTORIA
KC 1687BK

CH LOVEHAYNE ELISHA OF TREWATER
KC 0514CA
HD 6/7 (GB)

CH NINELL RAMBRUEN
KC 1055BW
HD 1/1 (GB)

CH BETHROB BRACKEN
KC 0242BR HD 3/3(GB)

CH NINELL MORWENNA
KC 4351BU HD 9/7(GB)

CH LOVEHAYNE BETEAZLE
KC 4499BV
HD 3/3 /GB)

CH CAMROSE FABIUS TARQUIN
KC 2855BK HD 4/7(GB)

CH SANSUE PEPPER OF LOVEHAYNE
KC 2025BR HD 4/7(GB)
April 2004 IHA Wieselburg
Excellent 2 - Veterans Class
Judge: Dan Ericsson (S)
23.8.2003 IHA Innsbruck
Excellent 2, Res.CACA
Judge: Siegrid Holzer
8.12.2002 IHA Wels
Excellent 1, CACA, RES.CACIB
Judge: A.Koroz (H)
25.5.2002 IHA Salzburg
Excellent 2, Res. CACA
Judge: Siegrid Holzer (A) "of Baywatch"
4.5.2002 ÖRC Clubshow in Obernberg
Excellent

1.12.2001 IHA Wels (A)
Good typ, correct head-profile, nice dark eye, complete set of teeth (scissor bite), good length of neck, stable level topline, slightly dropping croup, deep breast, very good rear angulations, strongly constructed, sound mover,
Excellent 2 (Res.CACA)
Judge: Karl P. Reisinger (A)
29.9.2001 Bundessieger Tulln (A)
harmonic dog with good substance, masculin head and expression, scissor bite, good reach of neck, level topline, tail set slightly low , beautiful front and rear angulations, good depth of breast, correct body while standing, moves a little close in front and behind, appealing type, typical coat.
Excellent 4
Judge: Peter. F. Berchtold (A) " Starchant"

15. 9. 2001 Spezialzuchtschau DRC in Winnenden (D)
balanced outline, lovely head, strong neck, good layback in shoulder, deep mature body, strong well angulated rear, moves steadily, would benefit from getting coat behind shoulders, to lay flat, giving a cleaner outline.
Excellent
Judge: Mrs. Richardson (GB) "Darrochonna"

05. 5. 2001 ÖRC Clubschau 2001 in St. Lambrecht/Stmk
good substance and bone, strongly constructed throughout, super bone, good forechest, brought musculin head, deep chest, short coupled, moved well, well presented and shown, excellent dog
Excellent
Judge: Ann Woodcock (GB) "Stanroph"
29.04.2001 RCS Club Show in Aarau (Ch)
Excellent 3
Judge: Mrs. Sue M. Almy (Arbutus) GB
7.4.2001 IHA Wieselburg (A)
Excellent 1,

CACA, CACIB, BOB


Judge

: Susanna Höger,

(A)
3.3.2001 IHA München (D)


Excellent

3




Judge

: Sue Pounds-Longhurst

(Mossburn) , GB
28.10.2000 NHA Stockerau (A)


Excellent 2




Judge: Brenda Phillips, GB

3.6.2000 IHA Wels (A)
Excellent 1, CACA;

CACIB RES -

CACIB


Judge: Peter F. Berchtold (A)